Executive Director
The wilderness path to personal transformation is a family tradition with Kylie Loynd's daughters, and they gracefully serve as her guides! Kylie comes to Journeys as our Executive Director…
Program Director
Chris Laliberte discovered the transformative power of nature connection and wilderness experiences while in college, and has been working in the field of outdoor education ever since…
Marketing, Communications & Design
Laura Brady came to Journeys in 2014 to participate in her first wilderness quest and, later that year, to apprentice on the Adult Quest. She is a strong believer in the power of the natural world to heal…
Volunteer & Programs Coordinator

Kurt Bonholzer is a Washington native who loves the trees, the feeling of human connection, and the look of moss during a rainstorm. He believes that who we truly are shows up in the presence of others…
Adult Programs
Journeys has been part of every major transition in Darcy Ottey's life, since her Coming of Age program when she was 13. She was the Executive Director of Journeys from 2006 - 2011…
Adult Programs
Randy Morris, Ph.D., is Professor Emeritus at Antioch University Seattle where he supervised the Spiritual Studies and Psychology areas of concentration. He continues to teach classes in dreams…
Adult Programs
A native of the pacific northwest, Andrew Middlebrooks has been shaped by the rivers, mountains, islands, the Salish sea, and the many wild beings that slink in the shadows. His great passions are archery…
Adult Programs
Sheryl Kent is a local psychotherapist, ritualist and soul guide for over 20 years. She has worked as a guide with Outward Bound, was the Program Director for Passages Northwest, a local rite of…
Adult Programs
Cameron Withey began leading youth rites of passage in 2011. Wandering the woods at The Evergreen State College, he found his calling through self-designed studies in eco-psychology, contemporary rites…
Adult Programs
Pınar Sinopoulos-Lloyd (they/them/theirs) has always been allured by how the natural world mirrors one's internal landscape. Enchanted by the liminal, Pınar is a nonbinary QTPOC (Queer & Trans Person…
Program Elder
Frost Holladay spent several months of 2013 preparing for her own Elderhood Celebration, a new version of life. Her training and experience include being a licensed counselor, energy psychology…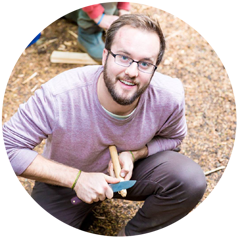 Youth Programs
Born and raised in Georgia, Jakob Ledbetter grew up exploring the beautiful blue ridge mountains of Southern Appalachia. Heeding the call of the Earth, Jakob embarked upon a MA in…
Youth Programs
Alex Eisenberg came to Journeys in 2012 as a participant in the Adult Wilderness Quest. Her powerful quest experience initiated a huge shift in her life, and was the spark that ignited her dedication to soul…
Adult & Youth Programs
Marisa "Sasa" Taborga Byrne (she, her, hers) is a heart-centered humanitarian. Sasa comes from Irish/German, and Bolivian lineages and has loved many lands including California, Mexico, Alaska…
Youth Programs
M.G. Aidoneus "Aidon" Bishop, is a Pite Sámi wilderness guide, outdoor educator, and rite of passage facilitator. A trauma-informed educator, father of six, former Boy Scout Leader, United States Marine, chef…
Youth Programs
Anna Schulman (she/her/hers) is a nature-inspired psychotherapist practicing in Denver, CO. Anna offers creative, somatic-based and trauma informed therapies to individuals and groups seeking liberation…
Youth Programs
Iris Garthwaite grew up exploring the curving oaks, rolling hills and cityscapes of the San Francisco Bay Area. One of her favorite activities as a child was guiding her friends on bushwhacking journeys in the…
Youth Programs
Porter Eichenlaub grew up running wild in the woods and fields of New England, and is deeply passionate about developing and facilitating programs that effectively support youth in growing towards inspired…
Youth Programs
Sophia ("So") Sinopoulos-Lloyd is a white queer Greek-American who grew up in the northern hardwood forests of Alnobak/Abenaki territory (central Vermont). So works variously as a nature…
Youth Programs
Keith Koch has been mentoring children of all ages for the past 9 years, sharing his passion for music, movement, and natural medicines. Originally from Wisconsin, he started teaching English through music as…
Adult & Youth Programs
Gretchen "G" Gerlach grew up on a dude ranch in rural Montana. While attending the church of the outdoors as regularly as possible, she developed a love and belief in the healing power of nature. The desire…
Youth Programs
Jonathan Twena grew up in Newport Beach, CA where he found connection to nature through surfing. He studied Geography at UC Santa Barbara and became interested in outdoor education while doing a field…
Youth Programs
Ryen Helzer, the youngest of four boys, was born and raised in the desert of Phoenix, Arizona. He parted from his suburban upbringing to start a rewilding journey as a forest firefighter in Northern Arizona…
Youth Programs
Laura Dennis ventured into the wild when she was a young girl, backpacking with her grandma in Alaska, which led her on a journey to finding the powerful healing principles from the elements and mother…
Youth Programs
Sam Burris DeBoskey is a farmer, carpenter, community activist and rites of passage guide from Denver, Colorado. He first became engaged with Rites of Passage work through the School of Lost Borders…
Youth Programs
Coleen Bulter is a woman of deep love and passion for the earth. Raised in Pennsylvania, Coleen has found homes in many places: Vermont, Upstate New York, and now a rainy valley in Western…
Youth Programs
Asa Dean brings a refreshing combination of depth and levity to his work, as he supports individuals to form more embodied and resilient relationships with themselves and the worlds they inhabit…
Youth Programs
Growing up in the Bay Area, Madison Scheer spent her youth hiking and trail running in the Marin Headlands and Sierra Nevada Mountains. She attended Colby College in Maine and found an interest…
Youth Programs
Jessie Cubberly's career in guiding began with naturalist interpretation, wherein she thrilled at weaving the stories of natural history into delectable, digestible narratives for people of all backgrounds…
Youth Programs
Silas Scheer was raised in the coastal hills of California. He spent his youth exploring the trails of Mt. Tamalpais — here he developed a deep connection to the natural world. At the age of 18, Silas spent…
Youth Programs
Rachel Cernick grew up between the mountains of Idaho and Montana, scaling pine trees and running barefoot and free. The demands and pressures of being a girl in our time gave way to difficult teenage…
Youth Programs
Jett Cazeaux remembers fondly their kinship with the natural world as a young child and adolescent, following the creek through the woods behind their home in the suburbs of Atlanta, Georgia…
Youth Programs
Topher Finelli was born in Toronto, Canada, and has spent many years finding beauty and reverence in the wilderness of North America. From canoeing the Verde River in a winter storm to being crawled over by…
Youth Programs
Shayna Gladstone, (she/her/hers) born in Metro-Detroit, Michigan, mentors earth-rooted leaders, and is a renowned facilitator, songwriter and intuitive movement guide…
Board President
Kathleen Redmond's first exposure to Rite of Passage Journeys was prior to her son's Coming of Age trip in 2005. Her daughter's Coming of Age was next, followed by her husband's own adult quest…
President Emeritus
Randy Morris has been a faculty member in the Liberal Studies Program at Antioch University Seattle since 1987. Prior to that, Randy taught kids, K-12, in Atlanta, Georgia and Hiroshima, Japan for ten years…
Treasurer, Chair Finance Committee
Dr. Brian Bansenauer is a member of the Songaia Cohousing community, where Journeys hosts its summer basecamp. Brian joined Journeys Bard in 2012 to continue to deepen the relationship…
Secretary, Chair Fundraising Committee
Marisa Gant holds spiritual and personal development as pivotal shaping forces in her life, and works as an individual wellness and spiritual counselor and organizational development consultant…
Board Member
Nancy Lanphear has lived in intentional community for 41 years. She and Fred, her husband, along with their children, were voluntary staff of the Ecumenical Institute and the Institute of Cultural Affairs (ICA)…
Honoring Transitions
Journeys gratefully acknowledges the contributions of all of Journeys' past members of the Board of Directors, who continue to serve Journeys and the world in many ways!
Holm Albrecht, Amanda Ayling, Molly Brown, Carol Crow, Chris Dishman, Nina Franklin, Stef Frenzl, Maria Garcia, Kathie Gillet, Ricardo Gomez, Edith Kusnic, Glenn Martin, Drew Middlebrooks, David Moskowitz, Ed Mosshart, Peter Nguyen, Amara Oden, Leif Oden, Rebecca Orton, Darcy Ottey, Ursula Popp, Oz Ragland, Lisa Reddick, Danna Schmidt, Brent Stuart, Tamara Walker and Gary Yonge.
JOIN OUR TEAM
In the summertime, Rite of Passage Journeys has a number of openings for responsible, caring, engaged individuals who are interested in exploring our work.
For each of our youth and adult experience programs we hire three Mentors (this is what we call our staff). There are three levels to our staff team structure based on experience, they are: Program Coordinator, Program Mentor and Program Apprentice.
Our summer youth programs, for ages 8 – 18, help young people navigate the journey from childhood to adulthood in a supported, mentored way.
Our adult programs, for ages 18 and older, grew out of the strong need we saw to guide adults through their own rites of passage — for transition does not end at age 18.
These programs foster the presence necessary for authentic connections, which are essential in our relationships with all beings.
In the spirit of creating community & increasing the availability of rite of passage experiences, we offer memorable presentations, unique workshops, and impactful events.